West Rand Mega Park – Industrial hub in Soweto, International Agri Processing Hub & Fresh Produce Market
Maximum Group is establishing a unique industrial, International Agri City and Fresh Produce Market in order to enable logistics, light industrial, food processing and production in Protea Glen, Soweto.
A new Industrial and International Agri City – West Rand Mega Park – will address these needs. This facility will serve the immediate needs of Klerksdorp, Fochville and Western Gauteng – Westonaria, Randfontein, Krugersdorp as well as Lenasia, Eldorado Park.
Western Gauteng is known to be called "the produce basket of the province" – as some 40% of all fresh produce supplied in Gauteng comes from this region.
Currently, there is no Industrial, Agricultural facility or Fresh Produce Market to meet the region's needs.
City Deep Fresh Produce market is 40 kilometers away. The distance and time required to reach it adds significantly to the cost and delivery time and charges of the produce.
International Agri City (IAC) and Fresh Produce Market (FPM) will meet international standards in order to enable food exports to the US and European Union. This will boost the economy significantly and create much needed sustainable jobs.
The facilities will be fully compliant with HACCP – Hazard Analysis and Critical Control Points. These are accepted good manufacturing practices for all sectors of the food industry in developed countries.
HACCP is a preventative food safety management system in which every step in the manufacture, storage and distribution of a food product is analyzed for microbiological, physical and chemical hazards. HACCP is be critical to the compliance with national or international food safety legislation. It provides a risk management tool that supports other management systems standards across the food industry – such as ISO 22000 Food Safety Management. It outlines good manufacturing processes for all food sectors and is the key to the business when taking part in international trade. It is especially suitable for primary producers, manufacturers, processors and food service operators.
There is no fully compliant HACCP facility in South Africa of this scale. And providing such facilities will open doors to the international markets never reached before and has the potential to transform the province. The value chain is long and effects can be far reaching. Furthermore, HACCP standard enables national food chains to purchase the produce food directly from the PC.

Light Industrial Park – Manufacturing and Logistics in an Industrial Symbiosis environment
There is also a need for a first-class industrial and logistics facility which will be addressing need to local SMEs and logistics companies in Gauteng.
Furthermore, there is a need for light industrial, manufacturing, and logistics facilities in the area. The area is booming and growing fast.
A large number of developments are taking place. SOWETO is expanding rapidly yet it lacks basic industrial, manufacturing & Agri processing facilities. Area has large and growing population and work force.
Being positioned at the Southern entrance of Soweto, on the N12 highway and between Lenasia and Soweto – the industrial park is strategically located with easy access.
The Project involves 4 stages of development and implementation namely Phase:
• 1: Concept Design & Feasibility
• 2: Sales, Leases and Off Take;
• 3: Capital Raising Phase;
• 4: Infrastructure & Construction;
It will be developed on 200Ha of land. It has industrial rights in place and can be proclaimed at any time.
The Project will consist of 4 phases:
Phase 1: Typology Mix – Light Industrial, Logistics, Manufacturing and Agri processing;
Phase 2: Fresh Produce Market
Phase 3: Agri Processing, Manufacturing, Storage;
Phase 4: Agri Processing, Manufacturing, Storage;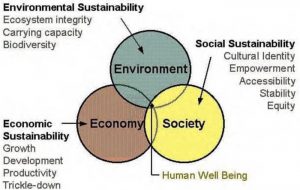 Location of the PC & Agri Hub
Easy access from N12 Highway and SOWETO with existing good infrastructure.
The Agri City and Fresh Produce Market are going to be in SOWETO.
Located strategically for easy access and aggregation and collection of fresh produce from remote farmers, particularly small-scale farmers.
Agri-City will include industrial and manufacturing to complement the development in order to enable value chain creation with local SMEs.
Agri-City will provide strategic value chain links with commodity supply, value chain alignment, and implementation and aid in Farmer Production Support Units (FPSUs).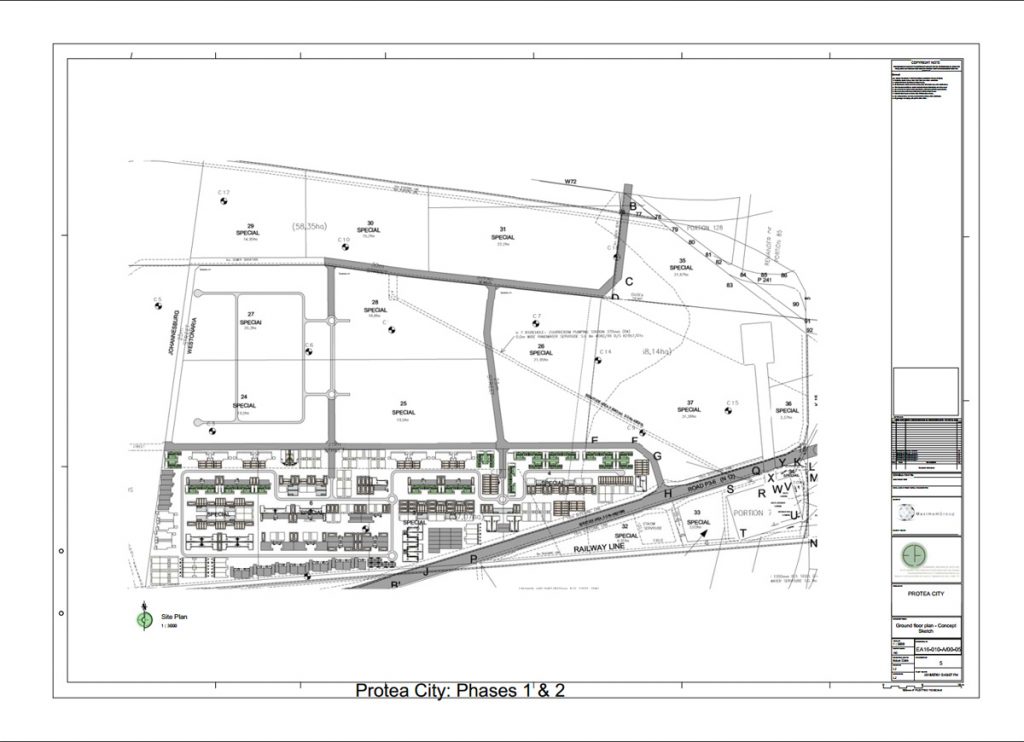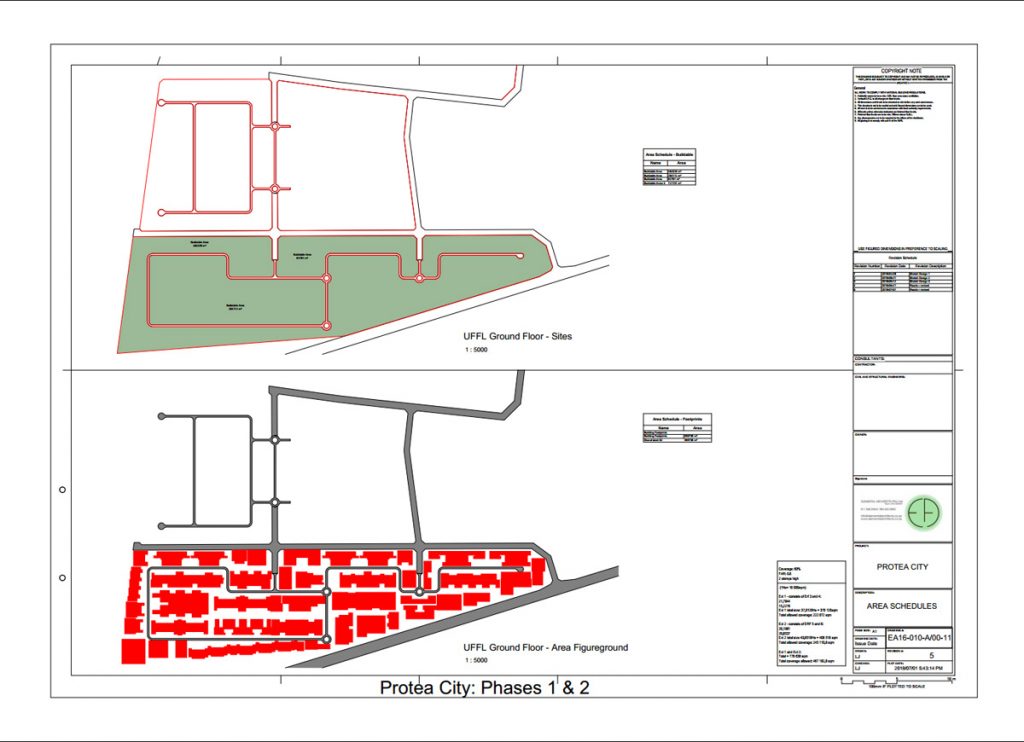 Phases 1 and 2 – Building Coverage and Infrastructure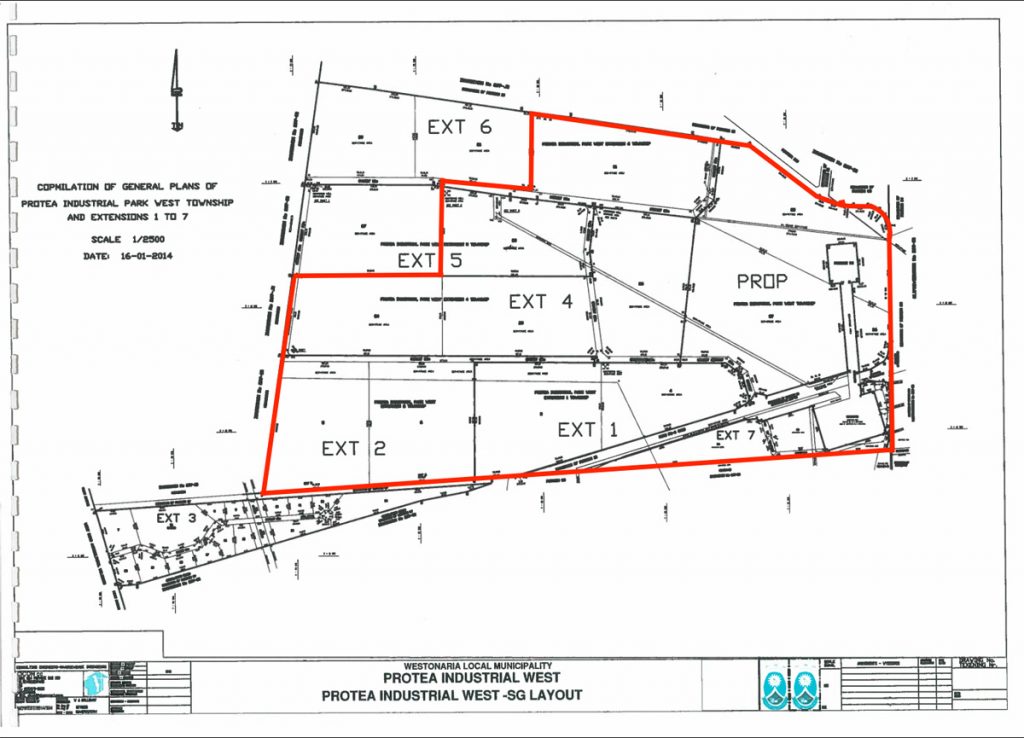 Entire Development: Extensions
Legal
Protea ACFPM DevCo Concept & Design
Project Development
Securing Bankable Offtakers
Funding
Commercial Infrastructure
Public and Private sector Offtakers:
Sales and Leases
Social Infrastructure
Public sector
Private sector
Listed companies
Parastatals
Nationals
SMEs and SMMEs
Funding
Consolidated Securitized Sales and Leases:
Grant funding
Commercial Banks
Government funding
Social Responsibility
Job Creation
Skills Development
Area upliftment
Value chain enabler
Education
Food security
Food production and processing
Services
Municipal
10MW Solar Farm
Solar roofs
Grey Water recycling
Rain Water Harvesting
Data and Telecoms
Organic Waster Recycling
General Waster Recycling
Security
Metering & Monitoring
IoT
Typologies
.
Fresh Produce Market
Agri processing facilities
Manufacturing
Large Distribution centres  – Medium & Large Factories and Warehousing
Mini Factories
Storage
Cold Storage
Specialized Storage
Typologies
Fresh Produce Market
Agri processing facilities
Manufacturing
Large Distribution centers – Medium & Large Factories and Warehousing
Mini Factories
Storage
Cold Storage
Specialized Storage

Challenges Farmers are facing & Benefits of PC
Almost all emerging farmers lack irrigation and post-harvesting (packaging, refrigeration, etc.) infrastructure.
Most emerging farmers do not comply with food safety and quality standards expected by formal fresh produce markets.
An insignificant number of emerging farmers produce priority commodities (potatoes, onions, and tomatoes).
The majority of emerging farmers are located very far (>50 km) from formal markets including Agri-Parks/Hubs, or collection/aggregation points.
The supply chain and logistics costs incurred to bring the fresh produce to a formal market are prohibitive.
Bulk Services, Infrastructure and Light Industrial
The initial development part of the project entails the design and construction of bulk services, infrastructure, light industrial, manufacturing, logistics and Agri processing.
FPM Infrastructure
The Fresh Produce Market will be constructed with the first phase comprising of 30 000 under roof.
Agri-City and On-Site Facilities & Services
Agri Processing, Manufacturing, Storage; Market building(s); Administration Building; Food Safety and Quality Control Laboratory; Risk Management Centre; Agri-processing and Food Packaging Facilities; Support Infrastructure (Waste Recycling, Workshops, Truck Staging Facilities) and Equipment. Additional 30,000 sq m added to the fresh produce market.
Agri-City and Expansion & Revenue Enhancement
Additional Agri Processing, Manufacturing, Storage; Additional Market Buildings, expansion of general and support infrastructure, expansion of the Administration Building, Staff Accommodation, Equipment, and the development of a Retail Centre. Additional 60,000 Sq m added to the Fresh Produce Market.