Agri Park – Design & Benefits
West Rand Mega Park – Design and Amenities, Facilities and Convenience

West Rand Mega Park, with the mix of Industrial, Agri processing and food production and Fresh Produce Market encompasses a whole value chain from start to finish. All the amenities to answer the value chain will be provided.

Thus, type of businesses occupying the space in PC is crucial by the developers. Tenant and owner's mix will be carefully considered as the businesses in PC should be complementing each other and be related.

Therefore, the PC will be occupied by companies and businesses that provide:

• Supply, manufacturers and retail to farming, green housing food product;
• Food storage and sorters;
• Food producers and Agri processors;
• Packaging and storing;
• Storage, cold and specialized storage;
• Food recycling and re-processing;
• Supplier and Manufacturers to Agri Processing food industries
• Seeds, Fertilizers, and chemicals;
• Logistics and transport companies;
• Vehicle, manufacturing, and machine maintenance companies;
• Retail, leisure, restaurants;

Also, a number of renewable and green practices, as well as the latest in technologies, will be applied:

• Internet of Things (IoT) for metering & monitoring of PC its facilities
• & infrastructure;
• 10 MW Solar Farm;
• Grey Water and effluent treatment;
• Biofuel;
• Internal gas grid;
• Data and Telecoms infrastructure;
• IT and Data center infrastructure;
• Blockchain;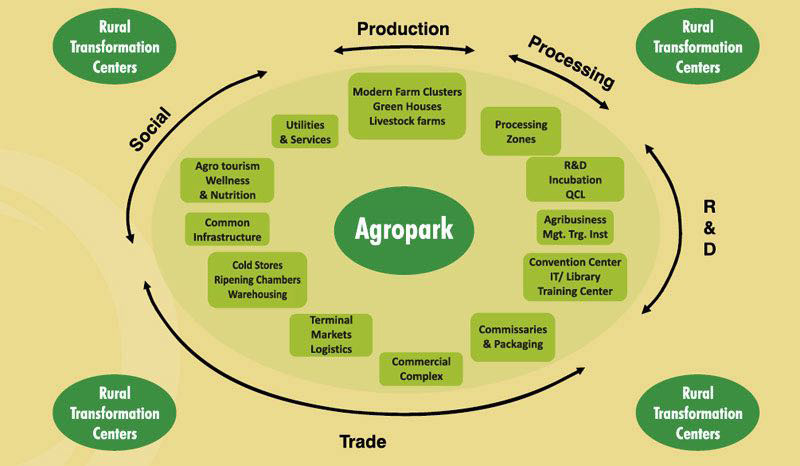 Soweto Fresh Produce Market
West Rand Mega Park: International Agri City and Fresh Produce Market (FPM) – Features and Summary
The development of the international Agri City and Fresh produce market will provide world-class facilities for Agricultural processing, storage, production, and Fresh Produce Market to the local and international community.
It shall enable large and small-scale farmers and food producers in the Western Part of Johannesburg and North West Province to have access to local yet world-class facilities for the trading of their fresh produce to local, national, and international markets.
Construction of a main Fresh Produce Market (FPM) complying with HACCP standard and including associated enabling infrastructure and support facilities.
HACCP-compliant Fresh Produce Market will be the first in South Africa. This means that the produce will comply with international United States' and European standards and would be a fresh produce export hub. Furthermore, this will enable national chains to buy directly from the FPM.
Integration of FPM and Agri processing facilities will enhance the financial viability and sustainability of PC.
Furthermore, proximity to growers and farmers as well as integration of different aspects of food production will lower the food cost while delivering fresher and better quality food.
Provision of critical support (production, supply chain & logistics, marketing, etc.) to farmers and food producers that most need it, particularly small-scale farmers.
Phase 1 of the West Rand Mega Park is Industrial Park, with full-scope at R1 Billion.
Phase 2 – FPM is to be built to be 30 000 m2 at R 450 Million.
Full Scope to be an FPM that is 140 000 m2 at R 2,5 billion.
Full scope of West Rand Mega Park development is R 13 Billion.
Soweto Fresh Produce Market – Design
Design and Amenities, Facilities and Convenience
All buildings will employ the latest Green Building Council's best practices. And so will the Soweto Fresh Produce Market building.
Special attention will be given to utilizing biomimicry and natural air flows and layout as in nature. This will ensure energy efficiency as well as natural ventilation.
Alternative building practice (ABT) will be employed to achieve and aid the above design. These ABT will assist with good economics of the structures and also enhance job creation, skills transfer, and sustainable and economically viable business incubation.
National chains will have nearby packaging and canning facilities. This ensures a lower cost of packaging food while packing and canning more fresh food because of the proximity to the source.
Furthermore, FPM will be designed for easy access of large vehicles, farmers, traders, and the general public. Sufficient parking and specialized parking spaces will be provided.
Also, large storage, cold storage, and specialized storage facilities will be provisioned for and planned. This will aid the operation of West Rand Mega Park as a whole.
A mobile application will be created to facilitate direct sales between farmers and end buyers as well as monitor and meter the available levels of food stock available. The application will work almost like an online stock market for livestock, food, and produce.
Soweto Fresh Produce Market will be multi-channel and will offer everything food-related under one roof:
• Fresh produce
• Meat
• Alcohol
• Dairy
• Other food-related products, as well as
• Education and promotion of food production
• Restaurants
• Farmers market – giving opportunity to the smaller food producers to sell directly and end-user to buy directly from farmers